In this article we will overview, which languages are most sought after by translation companies, and discover, translators of which languages are in demand in the UK. The methodology and samples are at the end of the article.
Another thing to keep in mind is that this analysis is concerned with languages other than English, as in the UK the knowledge of English is likely to be needed anyway, so we assume its demand to be of other nature, unrelated to this article.
Without going into details, the top 30 most requested languages are:
German;
French;
Spanish;
Japanese;
Dutch;
Mandarin Chinese;
Italian;
Norwegian;
Danish;
Turkish;
Swedish;
Estonian;
Polish;
Arabic;
Vietnamese;
Finnish;
Korean;
Portuguese;
Romanian;
Slovak;
Czech;
Serbian;
Russian;
Thai;
Latvian;
Hebrew;
Persian;
Tamil;
Greek;
Welsh.
Languages by total demand numbers
By the total number of job offers, the 3 most translated languages are:
German;
French;
Spanish.
These are closely tailed by Japanese, Dutch, Mandarin Chinese and Italian. The 7 languages are most likely to appear in any given job advertisement, and often go in groups (more about that in the section about frequent language combinations).
The 8 languages after that (Norwegian, Danish, Turkish, Swedish, Estonian, Polish, Arabic and Vietnamese) form the "long-tail of popularity", where the demand for translators is low, but the relevant job offers still appear regularly.
The remaining 15 languages (see the chart below) pop up once in a while, and maybe even more than once, but we encountered a number of job search sites, where they have not been mentioned at all.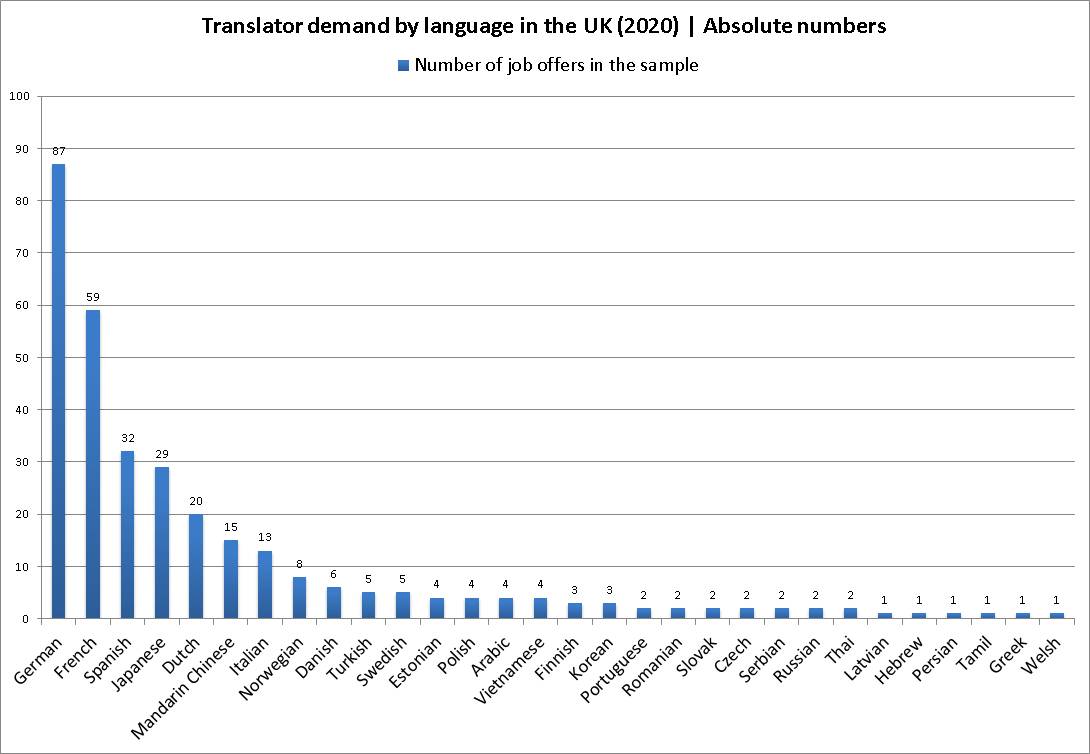 In fact, our own experience is mostly in line with these findings as well. German, French and Spanish are some of the most requested languages here at Tilti Multilingual. The only exception is translation to Italian, which is more popular with our clients than with the employers of the study.
Languages by share in total demand
The three most popular languages take up 55.45% of all the demand. Starting from the 16th place, any given language is being mentioned in less than 1% of all the job offers.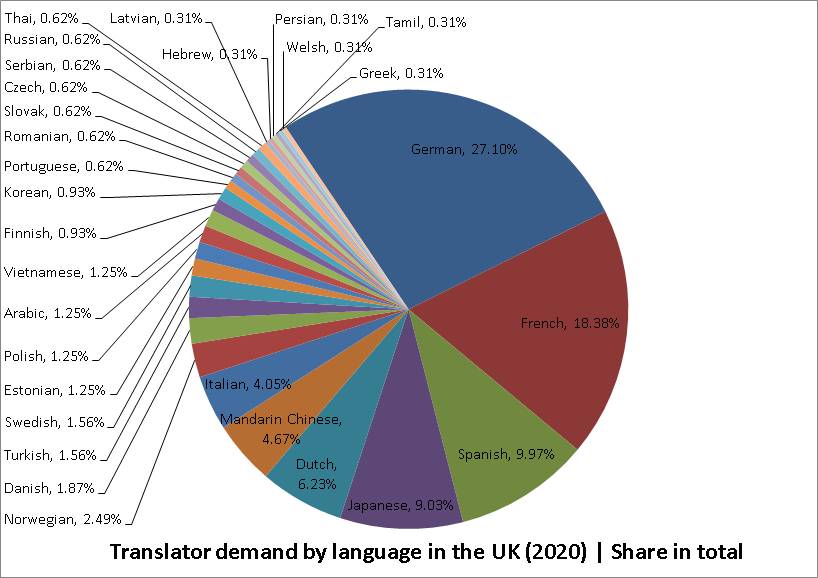 Frequent language combinations
Another important factor that might increase the chances of certain translators of landing a job in the UK is how languages are often mentioned together in the job offers. Employers have named several such combinations, with being proficient in more than one language giving an advantage to the potential employee. The following languages are mentioned together frequently:
German and Japanese;
German, Spanish, French and Italian;
German and Dutch;
German and French;
The groups reflect the overall popularity of languages quite well, as employers consider a single employee covering multiple sectors of the popularity chart a benefit.
Special cases
A special case that our analytics team has noticed is the Spanish translator job offers. About 25% of the ads specify that they are seeking a 'US Spanish' translator. We have not come to any conclusions about the reasons for this, but it clearly indicates that groups we have compiled might be subsequently divided, if other methods of analysis are applied.
Methodology and samples
Our sample included 13 job searching portals, selected randomly from a list produced by searching for a number of queries in Google.
In total, 321 job ads have been selected. Duplicate jobs ads (same employer, same job description, same language) have been counted as a single data point. Multiple job ads that from the same employer searching for translators of the same language, but for a similar job, have been considered duplicates as well. For example, "Senior editor with the knowledge of Spanish" and "Editor with the knowledge of Spanish" have been considered to be duplicates.